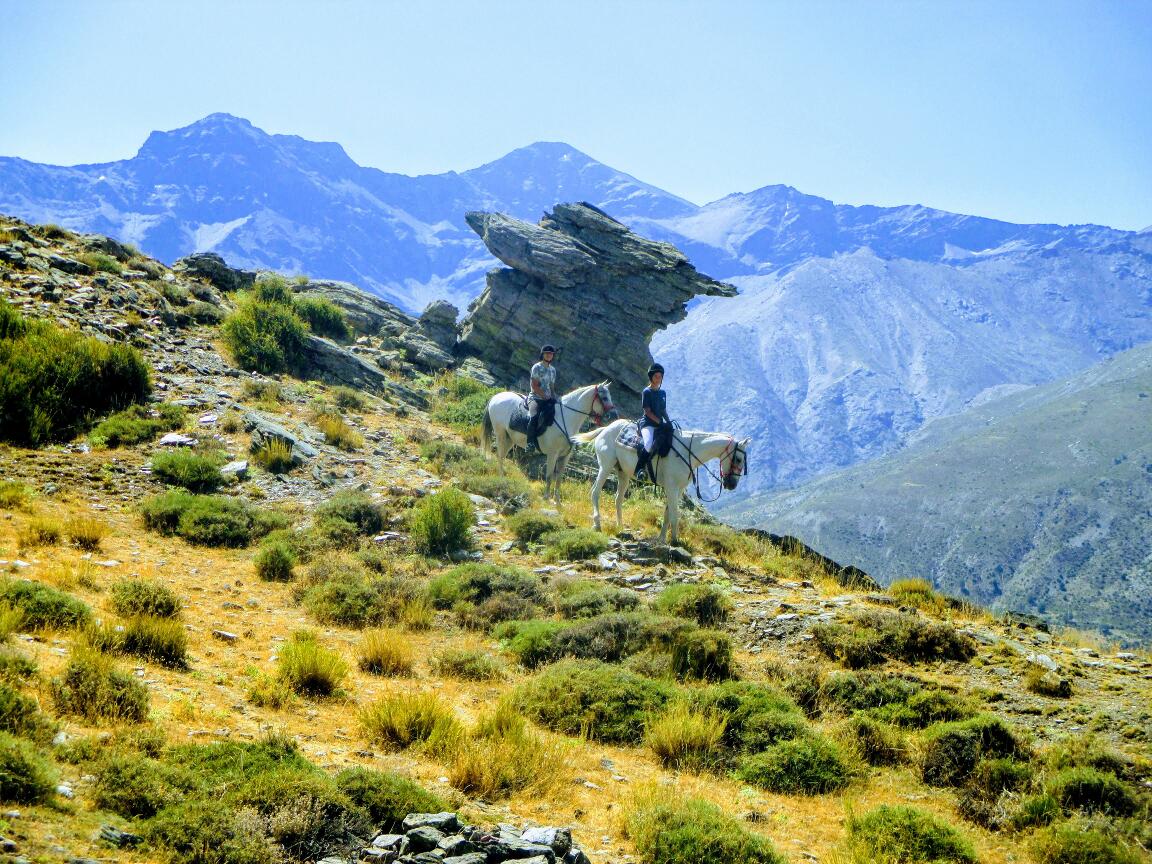 7 days/ 6 nights / 5 days riding. Half Board
Description:
The Sierra Nevada is in the South of Spain. With peaks over 3000m high is possibly one of the wildest areas in Spain. With a long tradition of stock movements and full of nearly disappeared bridle paths it is an adventure to get into her heart. Sierra Nevada horse riding.
In this route we will reach 2500m high (if the snow let us to do so) and we will always go up or down (nearly no flat areas). We will get into the Sierra Nevada National Park and we will also ride close to Genil river in completely different scenaries.
You will be based in the wonderful town of Guejar Sierra, with the stables 5km away from the town and will enjoy the hospitality and food of a real "Sierra Town"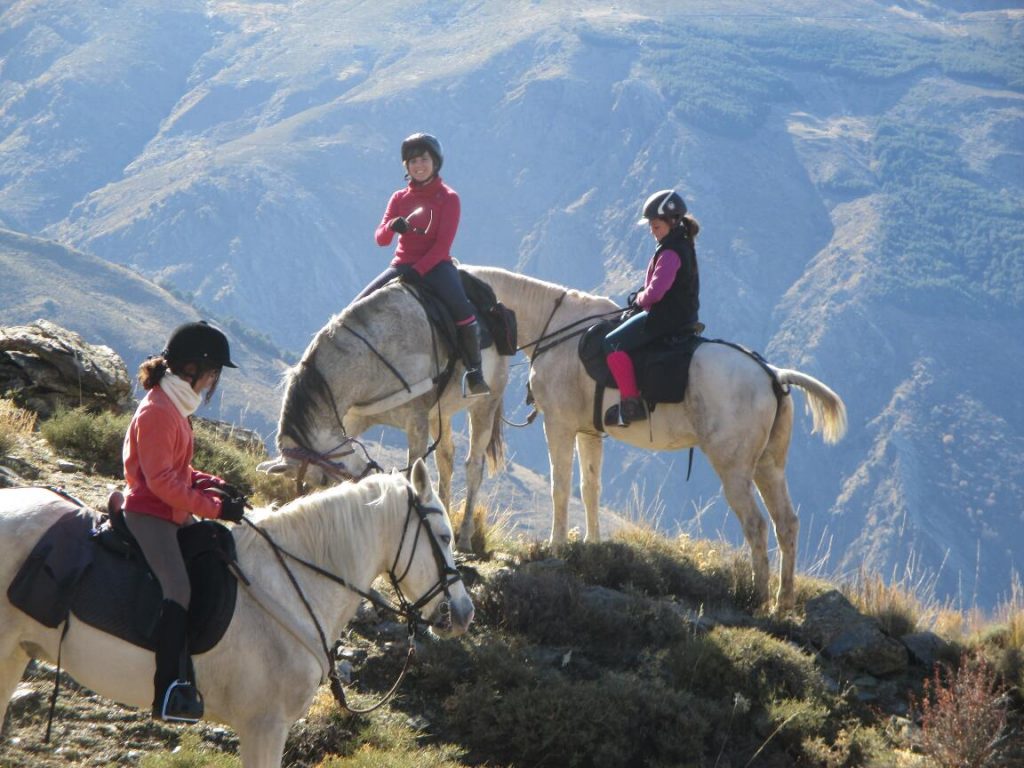 Itinerary:
Day 1
Those of you who have arranged to be collected from Malaga airport will be pickup at prearranged time and driven to the village of Guejar Sierra; around two hour drive. Arrival to the apartments, welcome drink and briefing meeting.
Day 2
After a nice breakfast, we drive up to the stables (5 kilometres from the village) to meet the horses.
Once everyone has been introduced to their horse we start the ride with a steep climb through Sierra Nevada oaks (malojos) and holly oaks. It will be a mixture between forestry track (into the National Park) and "vaqueros" (cowboys) paths. We will reach 2,000m high very soon to Loma Los Papeles and there the track allows some steady trots and canters (if the breathtaking views over Sierra Nevada allows you to do so). Also we will pass the remains of trenches of "The Spanish Red Army" from the Civil War (1936-1939).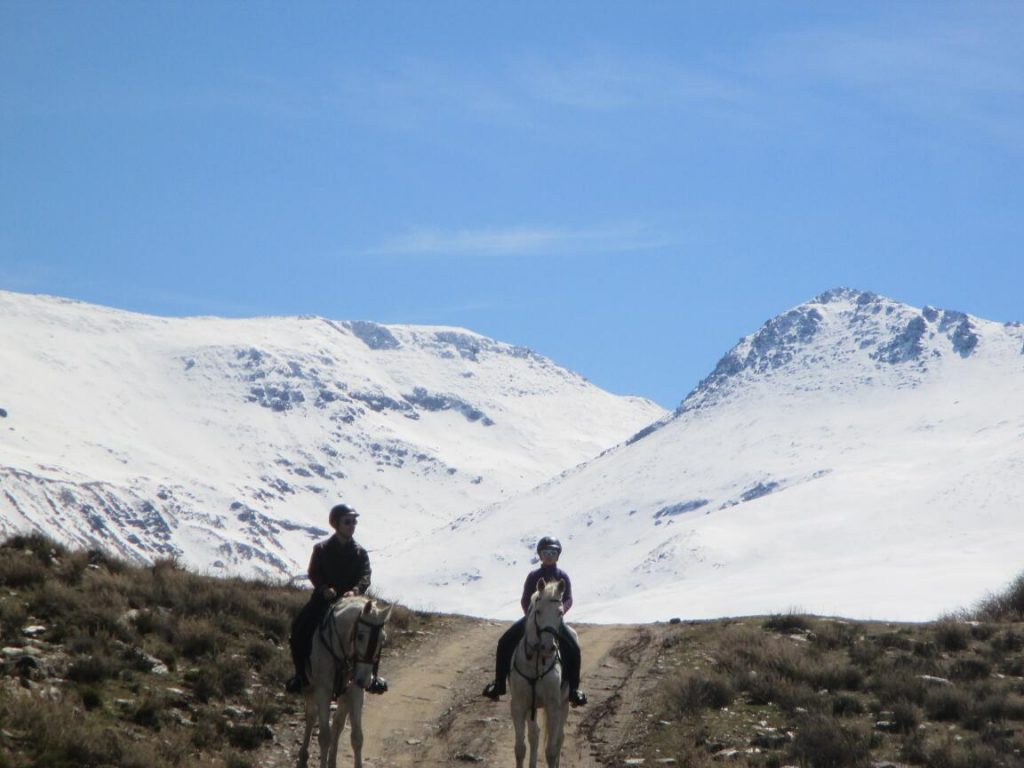 Day 3
Today, after crossing Maitena River we will reach La Vereda del Collado del Alguacil (vaqueros path). It crosses The Robles Caves and reach Collado de La Gitana. Today we are in a different kind of terrain (karst) and you can smell aromatic flowers and admire a lot of geological formations. At 2,000m we will turn down to La Trinchera.
Today is the more technical day.
After a short road we will walk over a real roman stone road and reach Guejar Sierra spring water "Fuente Los 16 caños". From there we will take a bridle path and forest track to the stables, no without crossing in several places an old Moorish irrigation channel.
Day 4
After your breakfast we will get into the fastest day of the trip. Mostly on dust tracks, we will be able to trot and gallop today.
We will ride on the two sides of the Maitena River and we will cross the river itself (I hope without swimming too much).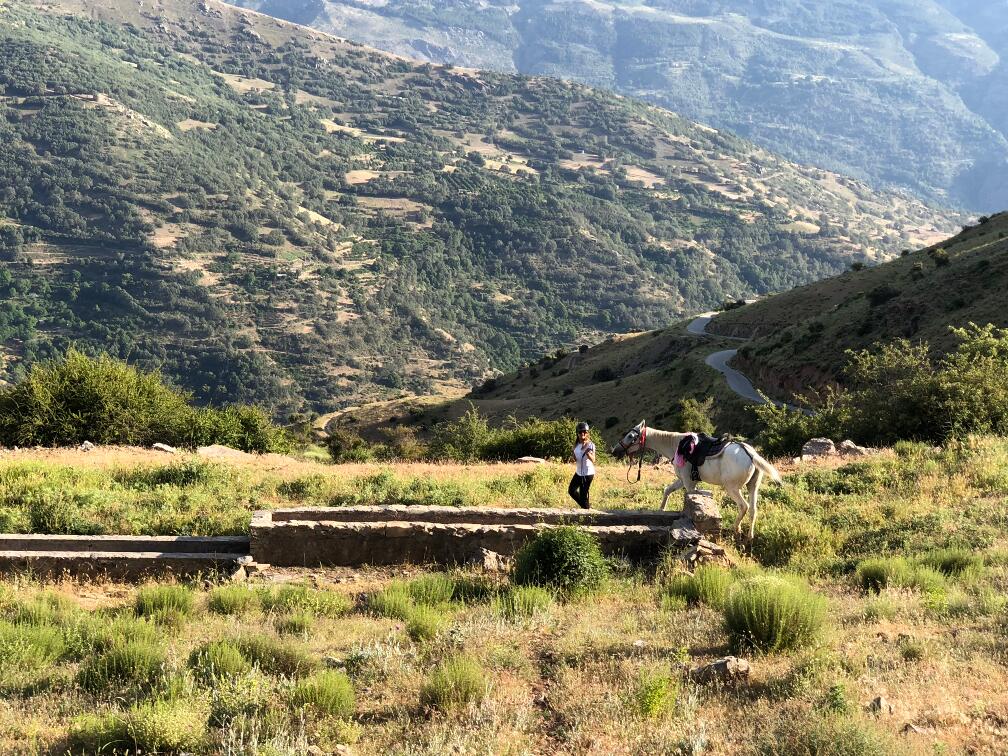 Day 5
Today we will go up again over 2000m high, into the remote area of "Los Cuartos". If we are lucky, we will see mountain goats (ibex) and partridges. Forest track crossing never ending stone valleys, in a "Lord of the Rings" scenary.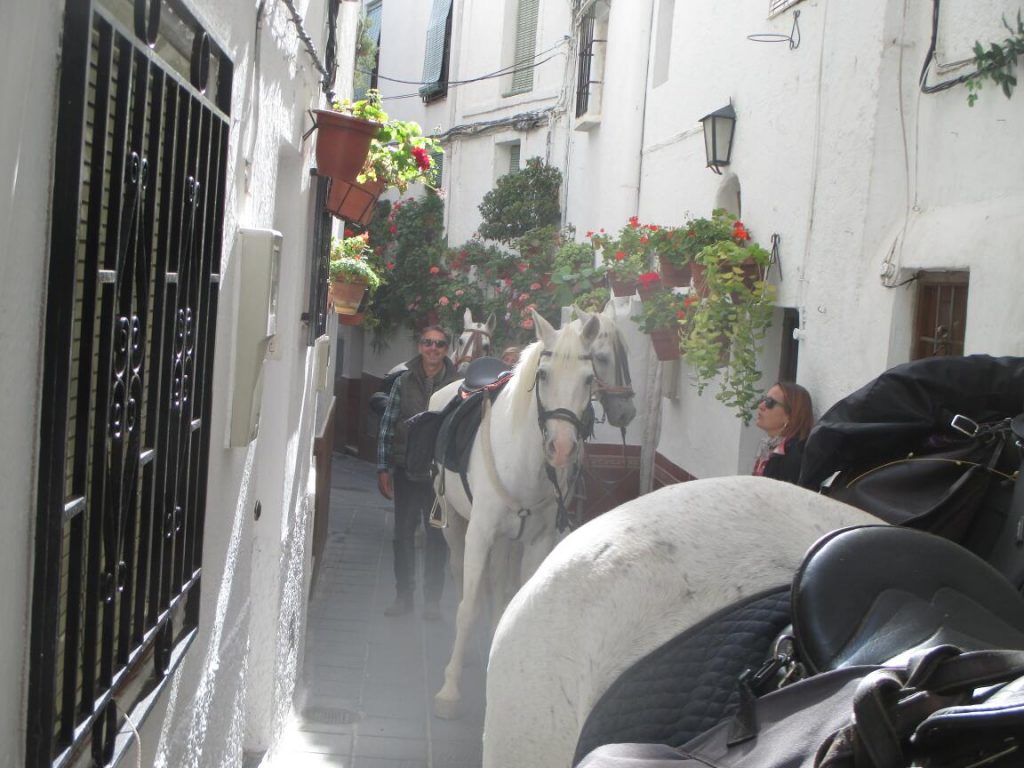 Day 6
Today is the more touristic day. We will go to the town of Guejar Sierra, visit his ancient and narrow streets (if we are able to put the horses inside) and go down to Genil river. There we will follow the old route of the tramway elevated over the river and cross tunnels and other amazing places. Then, we will go straight up to Las Encinillas following ancient bridle paths or dust tracks.
Farewell drink
Day 7
Breakfast and second farewell
BOOK
PRICE: 600€
Includes: 7 days 6 nights accomodation with breakfast and 5 dinners with table wine. Farewell drinks first and last day.
This price is based in a double room or apartment, if you need a single room an extra charge of 150 Euros will be applied.
Not included: flights, personal and accident insurance, transfers from/to airports. Everything that is not in the included section.
Airport Transfer: We can arrange collection from Malaga or Granada airport for an additional cost of 35 Euros per person each way. The collection time should be no later than 4pm, and the return transfer on the day of departure would get into Malaga on earlier than 10am.
Contact us on +34616256704 or victorfernandez@gmail.com
DATES 2019
11.02. – 17.02., 25.03. – 31.03., 22.04. – 28.04., 06.05. – 12.05., 03.06. – 09.06., 22.07. – 28.07., 19.08. – 25.08., 23.09. – 29.09., 21.10. – 27.10., 19.11. – 25.11., 10.12. – 16.12.